How to Prepare All Type Of Ceramic Crowns ?
By Sarfraz Ahmed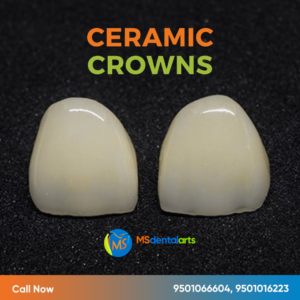 All-ceramic crowns form one of the most aesthetic restorations available today. Crowns without metal frameworks allow light to pass through the crowns and exactly mimic the translucency of natural teeth. Other benefits include biocompatibility and less tooth loss than ceramic-to-metal restorations.
Limitations of all-ceramic restorations 
For all ceramic restorations include appropriate polishing techniques required after adjustment to minimize wear on opposing teeth.
All-ceramic crowns might not be the best option for stained teeth.
Carious teeth should be restored with appropriate materials to minimize gaps and reduce esthetic outcomes .
Titanium implants have established longevity. 
Tooth preparation guidelines
To be successful, all-ceramic crowns must have a relatively uniform circumferential thickness. This is directly related to the drills used during tooth preparation.

The preparation differences between various all-ceramic crown materials are minimal. They avoid unfavorable stress distribution and minimize the risk of crown fracture.

The preparation of the front teeth must ensure optimal ceramic support along the entire incisal edge. It consists of a reduction on 2 levels of the incisal edges.

The tooth should have sufficient crown structure for optimal strength and retention shape. Ideally, the thickness of this area should not exceed 2mm. Otherwise, all-ceramic restorations are likely to fail.

The preparation of the posterior teeth should include 2-plane reductions on the working cusps (lingual cusps of the maxilla; buccal cusps of the mandible).

Posterior restorations should distribute occlusal loads evenly in the ceramic and be supported by the tooth structure.

For IPS Empress® or e.max® crowns and zirconium crowns in the anterior region, the teeth should be reduced in the range of 1 mm to 1.5 mm to achieve aesthetic restorations. The reduction of the face must be between 1mm and 1mm.

5mm, while the incisal margins should be reduced between 1.5mm and 2mm to ensure sufficient incisal translucency.
Prepration of Tooth
The optimal one Tooth preparation should begin with deep fissures of known diameter. This is done with milling cutters with a known diameter of approx. 1.
0mm diameter. Doctors ensure sufficient bite reduction by combining the grooves.

This step is repeated on all surfaces of the tooth to ensure an even reduction.

During preparation, the sharp corners of the lines should be removed.

Margins should be carefully prepared with a 1 mm wide circumferential shoulder or bevel with rounded axial/gingival corners.

 

Take care around To create undercuts at the junction of the shoulder and axial walls.

Sharp edges and sharp transitions should be avoided and the shoulder should be as smooth as possible. This can be done with a fine-grain diamond drill.
Our licensed and skilled technicians are constantly to be had for case consultations and might help you with case planning. Get in touch now.